BUILT TO PERFORM
The smallest of Kubota's 5-tonne range includes advanced technology, superb economy, a powerful Stage V compliant engine, and efficiency-enhancing operator controls, enabling to take on a wide range of tasks.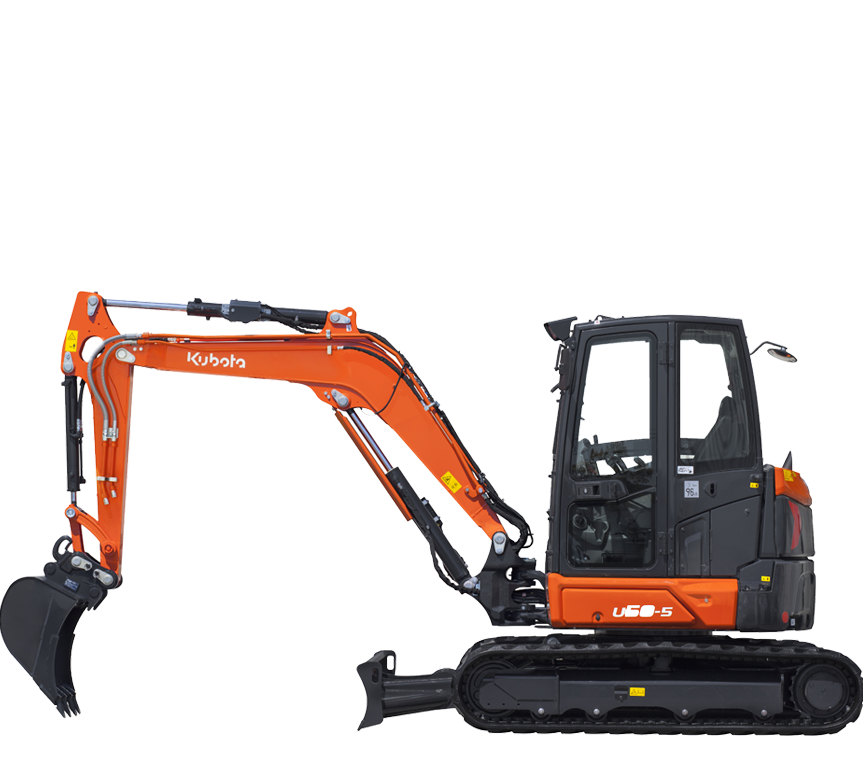 ECONOMIC POWER
High power, low fuel consumption and cleaner exhaust emissions thanks to the world-class, reliable, Stage V compliant D1803-CR-T-E5 engine.
HIGHLY PRODUCTIVE
Kubota's load-sensing hydraulic system provides smooth operation, regardless of load size.
EXTREMELY VERSATILE
Built to make your job easier with features such as a dozer blade float function and tight tail swing for undertaking operations wherever space is confined.
DEPENDABLE PERFORMANCE
Do more in a day thanks to a maximum reach of 5.85m and a digging depth of 3.37m.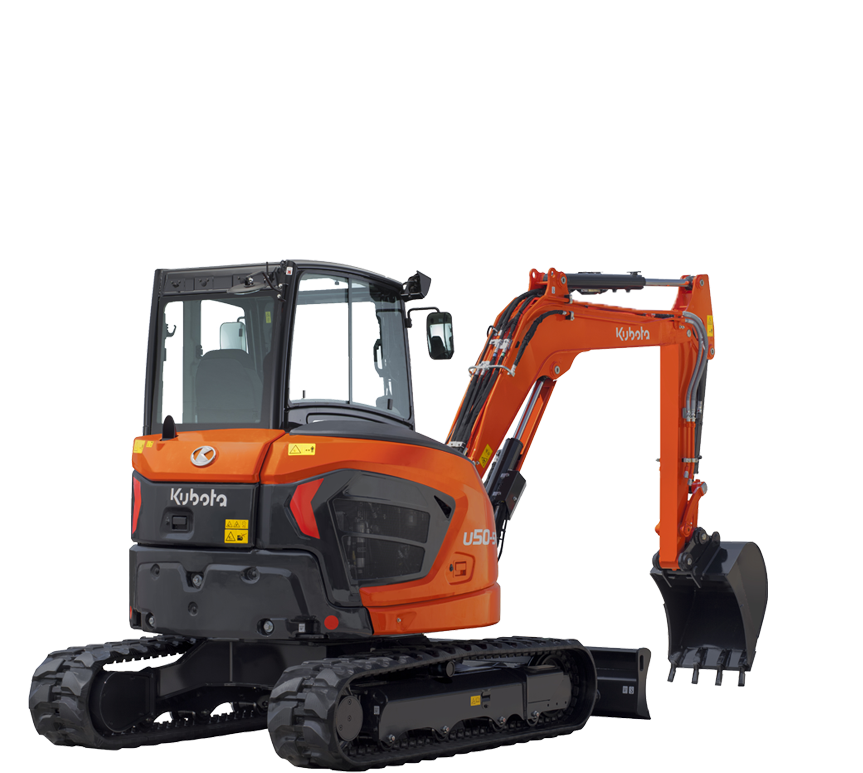 SUPERIOR COMFORT
A wide and relaxing cab, providing plenty of legroom with superb visibility. ergonomically positioned controls that include Kubota's Intelligent Control System.
Kubota Tracking System fitted as standard.
BUILT-IN SAFETY
Bright LED working lights for enhanced visibility plus a highly visible seat belt and alarm and a range of other built-in operational safety features.
$$
Specifications
More about U50-5
Power ISO 14396 PS (kW)
40.4 (29.7) / 2200
Power ISO 9249 NET PS (kW)
39.4 (29.0) / 2200
Power ISO 9249 NET A/C PS (kW)
39.0 (28.7) / 2200
Max Digging Force Arm/Bucket (kN)
22.6/32.8
Aux Flow 1
65 l/min @ 210 kgf/cm2
Aux Flow 2
37 l/min @ 210 kgf/cm2
Transport height (mm)
5355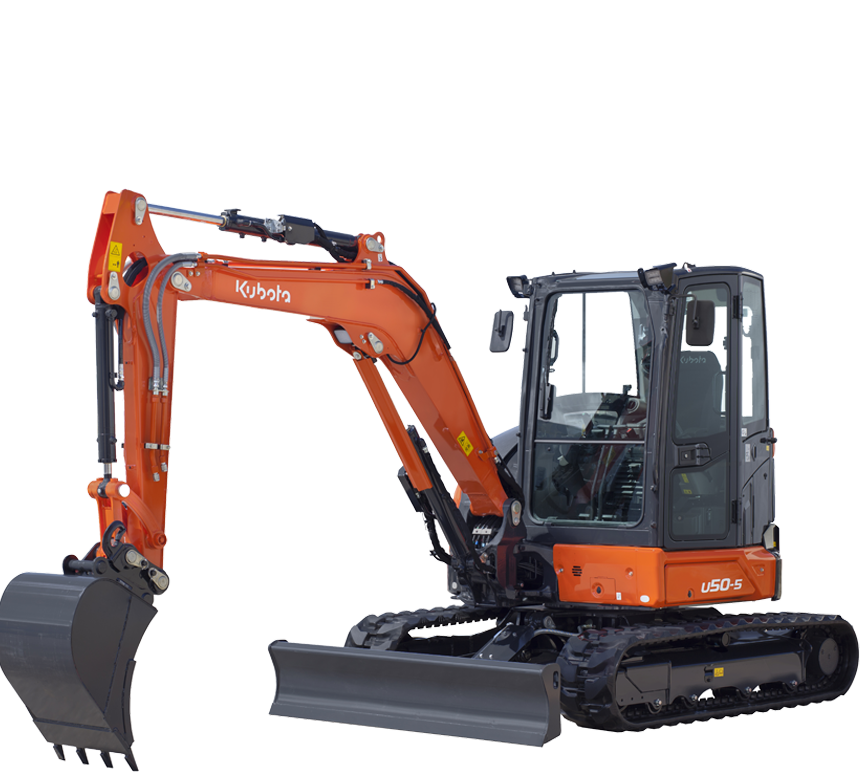 ENGINE

HYDRAULICS

VERSATILITY

PERFORMANCE

COMFORT

SAFETY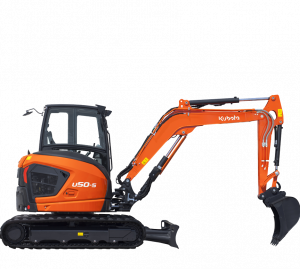 ENGINE
Powered by a high power, reliable, economic, Stage V-compliant, direct-injection Kubota D1803-CR-T-E5 3 cylinder diesel engine, you can look forward to minimum vibration, low noise and miserly fuel consumption.
Automatic DPF regeneration for reduced down-time and maintenance thanks to an increase in service intervals for both the regeneration filter and ash cleaner.
Kubota's Auto Idling System is fitted as standard. When control levers are left in neutral for longer than 4 seconds, the system automatically reduces the engine to idling RPM.
Routine maintenance is made simpler with access to all main engine components positioned on one-side for easier and quick inspection.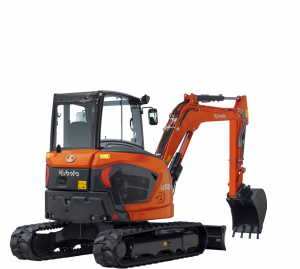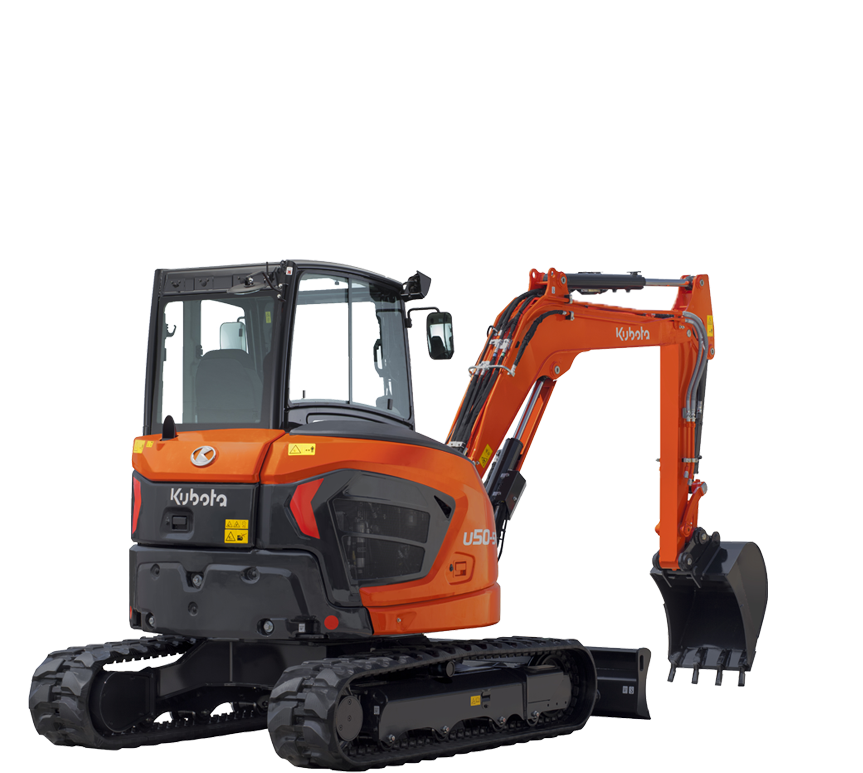 HYDRAULICS
Kubota's load-sensing 2-pump hydraulic system ensures smooth operation regardless of load size
Two auxiliary circuits come as standard with precise oil flow programmable (up to five oil flow rates) for specific attachments into the memory of the digital display panel.
Includes a manual third line hydraulic return.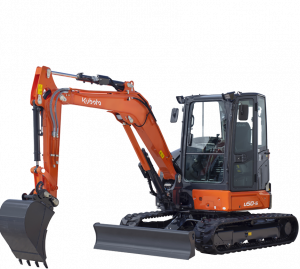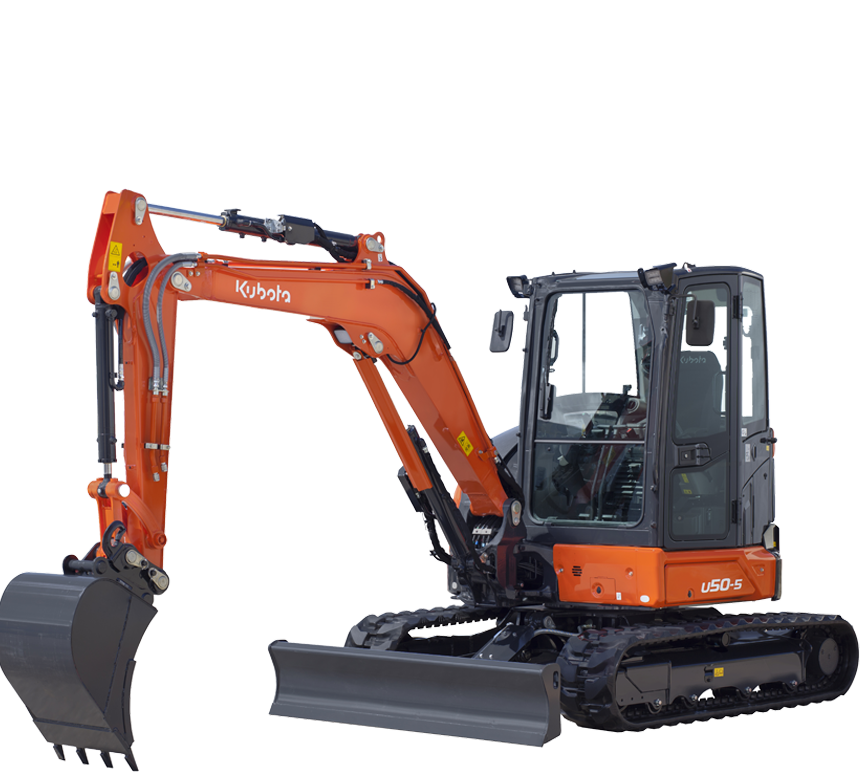 VERSATILITY
The dozer float function makes ground finishing work faster and easy. After back filling, simply travel backward along the covered ditch with the dozer in the float position.
A tight tail swing means the U50-5 is highly versatile when you're operating in locations where space is restricted.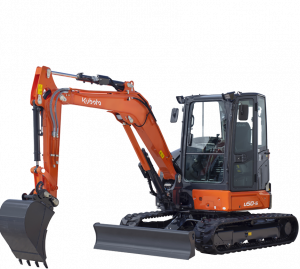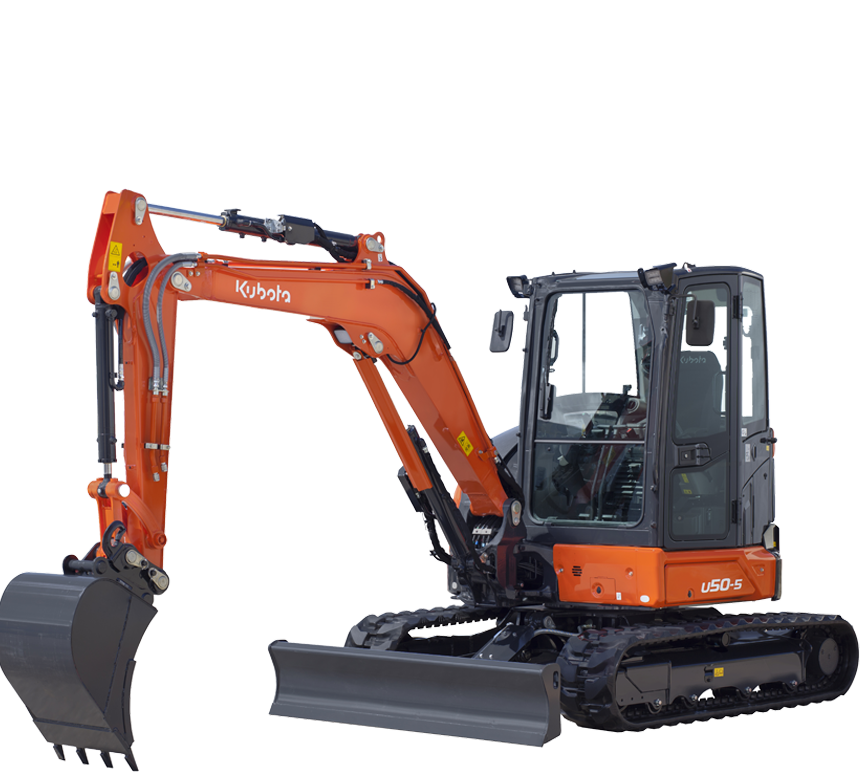 PERFORMANCE
Well-balanced machine with an outstanding 5.85m arm reach, delivering an impressive digging force up to 32.8kN, enabling operators to dig faster and more efficiently even in tough conditions.
The two-speed auto-shift feature automatically adjusts speed and traction force depending on load size and terrain, providing smoother turns and dozer work.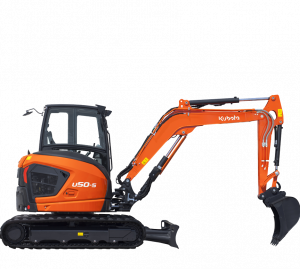 COMFORT
A wide, spacious cab is designed for comfort with wide door access and ample footspace.
The U50-5 offers superb all-round vision including a skylight and easy-open gas-assisted front window and air conditioning for improved productivity.
Additional noise reduction materials in the engine compartment and cab floor help reduce the operational sound to 71dB – 74dB, protecting the operator's hearing as well as providing a less stressful working environment
Features include a double-adjustable air suspension seat*, enlarged foot space, and ergonomically shaped pedals, all designed to provide the optimum working environment.
A compact key pad places all of the main switches the right side of the operator for easier access.
A 7-inch full colour digital display screen features Kubota's Intelligent Control System. Accurate displays of all necessary readings - such as routine maintenance alerts, engine temperature and a 90-day usage register (for machine hours worked) – are all at the operator's fingertips.
Kubota Tracking System fitted as standard for increased productivity, enhanced security and reduced downtime. AEMP API enabled
*Available on high specification models only.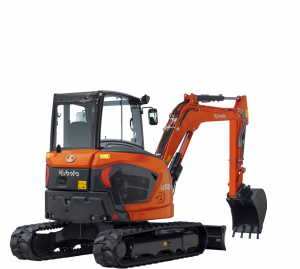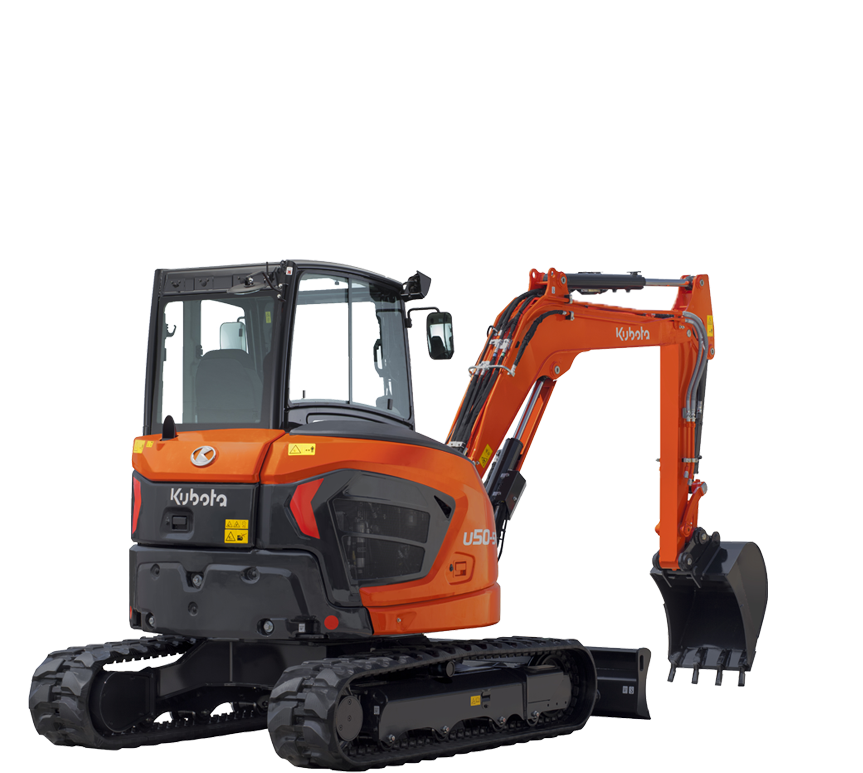 SAFETY
Bright LED work lights, with a programmable delayed turn-off, ensure a safe exit from the machine at the end of the day.
A highly visible orange seatbelt and alert function encourages the operator to wear the seatbelt.
An optional (fitted as standard on the high spec model) rear-view camera significantly improves working visibility towards the rear of the mini excavator by displaying the view on a 7" LCD screen in the cab.
An optional travel alarm warns nearby workers when moving.
The U50-5 is fitted with anti-drop safety valves on the boom and arm as standard. The boom valve is also a boom-lowering control device.
The swivel negative brake locks the top frame in position when the engine is stopped or the pilot control safety lever is raised.
To ensure operator safety, the machine will only operate when the safety control lever is engaged.
The machine is fitted with an overload warning buzzer.
Additional top frame tie down points to ensure safe securing of the machine whilst being transported.
Roll-over Protective Structure (ROPS) and Operator Protective Guard (OPG, Top Guard Level I) as standard. Level II available as an option with Top Guard to maximise safety.
Kubota's industry-leading, Anti-Theft System is fitted as standard. Only programmed keys will enable the engine to start up. Attempting to start with an un-programmed key will activate the alarm. Newly enhanced features include an alert to remind the operator to extract the key after operation, and an LED to alert potential thieves that the system is activated.