Machine Weight (kg) up to
1700

kg
HIGH SPEC PERFORMER
Kubota's U17-3αHI is a high spec version of the U17-3α, incorporating a powerful Stage V diesel engine to deliver powerful performance in line with the latest emissions standards. The machine also features zero tail swing for maximum safety and productivity. In addition, the use of new short-pitched rubber crawlers helps to minimise vibration during travel for improved operator comfort. The U17-3αHI also includes proportional flow control for AUX1.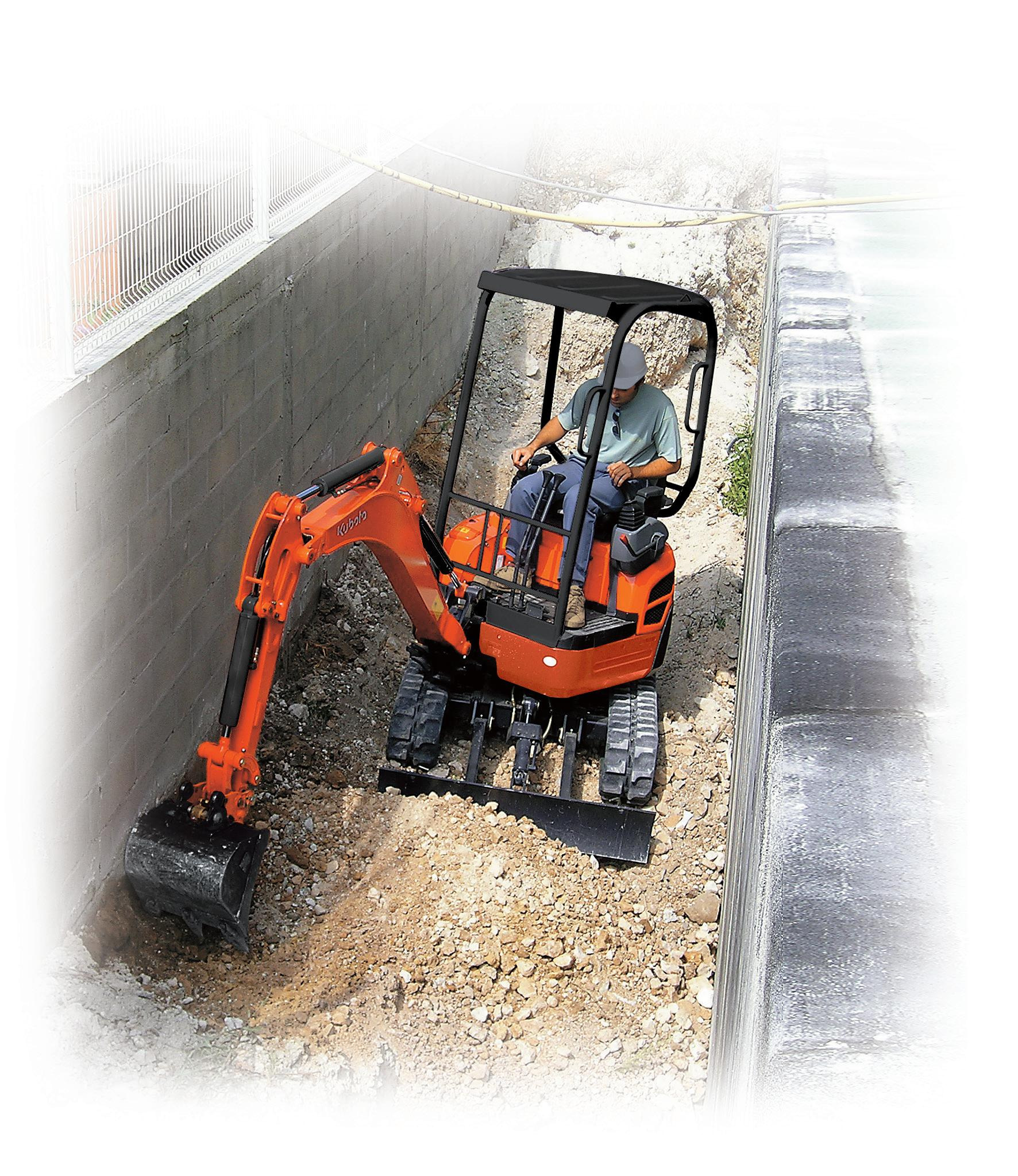 IMPRESSIVE POWER
Kubota's Stage V-compliant diesel engine delivers high output, low fuel consumption, and minimised exhaust emissions.
POWERFUL HYDRAULICS
Excellent digging depth and reach with an extended length that makes it easier to collect soil close to the machine.
OUTSTANDING VERSATILITY
The variable width track makes it easy to adjust the base for greater stability when needed or to choose a narrower width to pass through narrow spaces.
EFFICIENT PERFORMER
Built for efficiency, the long reach of up to 3840mm and impressive dig depth of 2310mm makes even tough jobs easier to handle.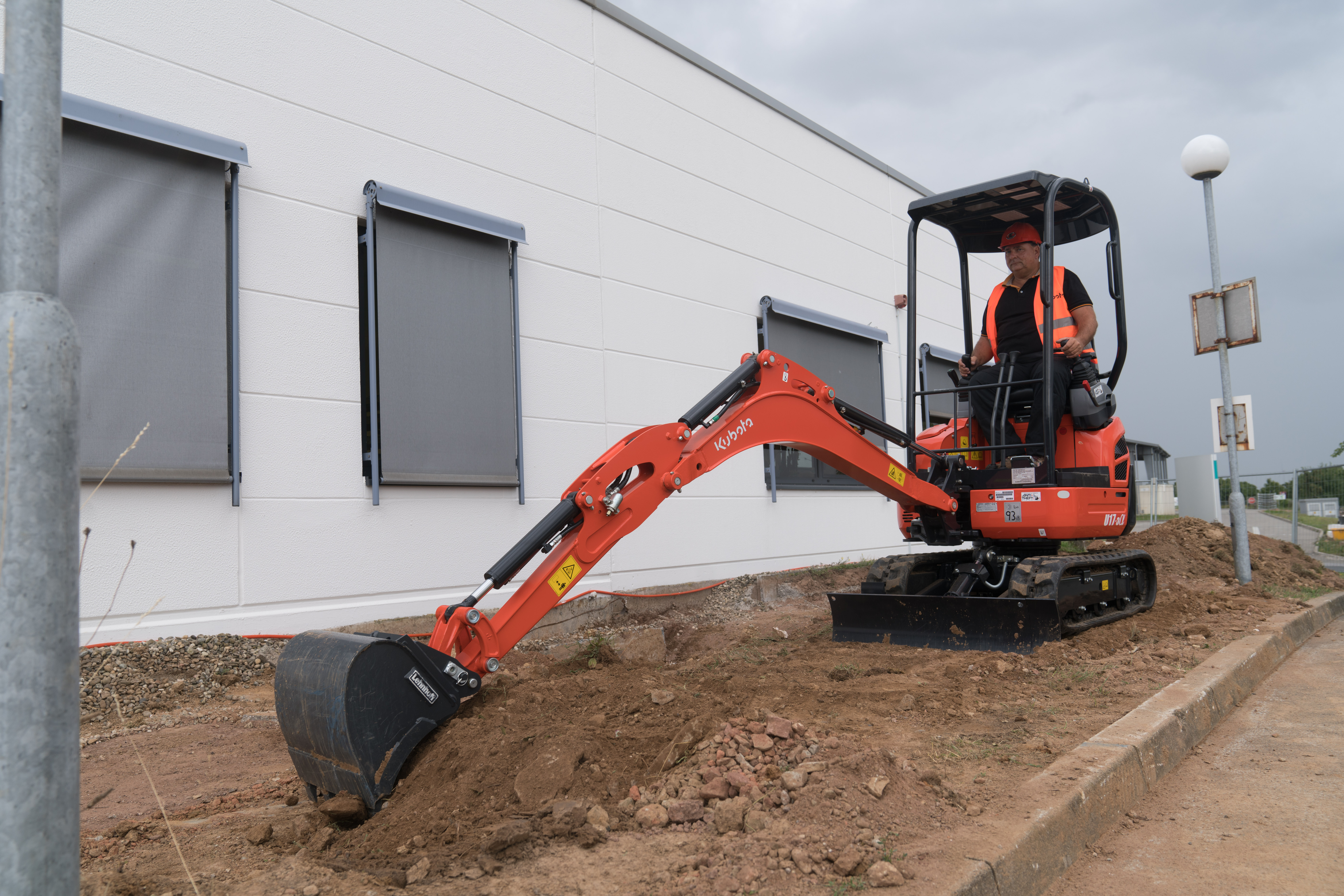 SUPERIOR COMFORT
The large well-equipped cabin is designed to optimise operator comfort and productivity, thanks to features such as generous legroom, a flat floor and an adjustable suspension seat.
BUILT-IN SAFETY
ROPS (Roll Over Protective Structure), TOPS (Tip-Over Protective Structure),OPG (Operator Protective Guard) Level 1, and Kubota's Anti-Theft System.
U17-3αHI
Which one will you choose?
Model
Standard Version
Long Arm Version
Machine Weight (kg)
1650
1700
Power (kW/hp)
11.3/ 15.3
11.3/15.3
Max Speed (km/h)
2.2/4.1
2.2/4.1
Max Dig Depth (mm)
2310
2460
Max Digging Force Arm/Bucket (kN)
8.5/15.2
7.7/15.2
Aux Flow 1
27.7 l/min @ 18.6 kgf/cm2
27.7 l/min @ 18.6 kgf/cm2
Overall width (mm)
990 to 1240
990 to 1240
Transport height (mm)
3545
3550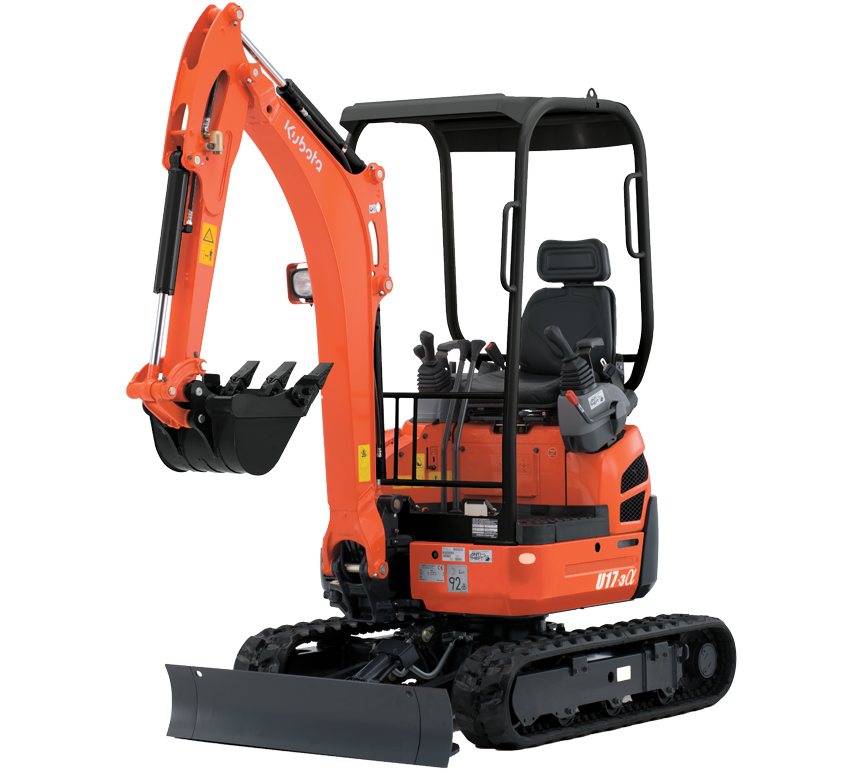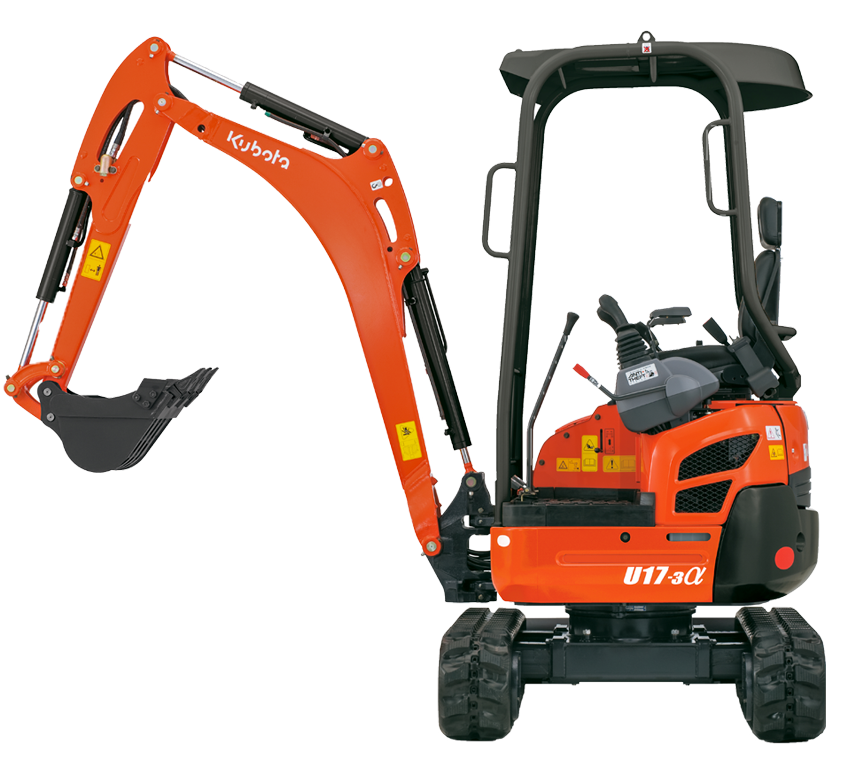 ENGINE

HYDRAULICS

VERSATILITY

PERFORMANCE

COMFORT

SAFETY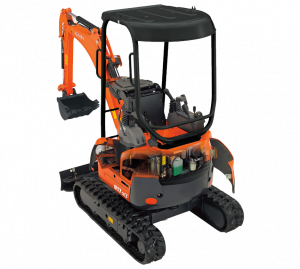 ENGINE
Kubota's Stage V-compliant diesel engine meets all current engine emission regulations.
The rear bonnet, side covers and the under-seat cover open up without the need for tools for easy maintenance.
Rapid access to the engine oil gauge, radiator, battery, air and fuel filters, and more.
Accessing the under-deck hydraulics is fast and easy, because there aren't any bolts to unscrew—just lift the rubber mat and open the floor plate.
For extra strength and easier repairs, the U17-3αHI's bonnet and side covers are made of steel.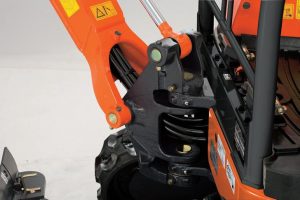 HYDRAULICS
Proportional flow control for AUX1.
The boom cylinder is situated above the boom for maximum protection, especially during breaker or dumping operations.
Movement speeds of front attachments and lifting power are well adjusted, thanks to the boom cylinder's large-diameter rod and optimal hydraulic pressure.
Standard features include a pressure accumulator, hydraulic pressure checking ports, a third line hydraulic direct return for the AUX feature, a variable displacement pump, and a straight travel circuit. All of which help to ensure reliable, smooth operation in a variety of tough conditions.
Travel motor hoses are sited within the track frame for added protection – a unique feature for mini-excavators of this class.
Front cylinder hoses are routed through the boom for increased protection, extended service life and greater operator visibility.
Auxiliary hoses extend only to the top of the arm to protect them from potential damage during narrow-width bucket use.
The two-piece hose configuration on both dozer and boom cylinders reduce the amount of time needed for hose replacement.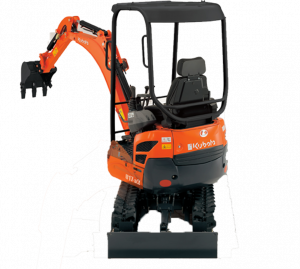 VERSATILITY
With a choice of long or standard arm lengths, the versatile U17-3αHI enables you to achieve a long reach and impressive dig depth.
The adjustable track easily switches from 900m to 1240mm width for even greater stability and manoeuvrability.
PERFORMANCE
Kubota's zero-tail swing makes the U17-3αHI ensures a 360˚ swivel, excellent stability and smooth control, combined with superb power and efficiency, enabling superior performance even in heavy traffic areas and inside buildings.
The dozer lever features a 2-speed travel switch, which enables the operator to easily select between power or travel speed during levelling work, depending on the load.
Informative, interactive and functional. Kubota's Intelligent Control System keeps you in tune of the U17-3αHI's vital signs. It accurately displays easy-to-understand diagnostics of current working conditions and warning indicators for engine rpm and hour meter, as well as for fuel, temperature and oil levels. When filling up with fuel, the panel also informs the operator that the tank is nearly full, and alerts the operator when routine maintenance is due. Overall, the panel reduces excavator repair time for lower total operating costs.
For increased durability, bushings are included for all of the U17-3αHI's pivot points on the swing bracket, as well as critical jointed points. If necessary, the bushings can be easily replaced.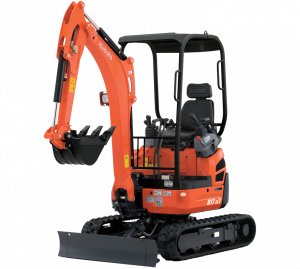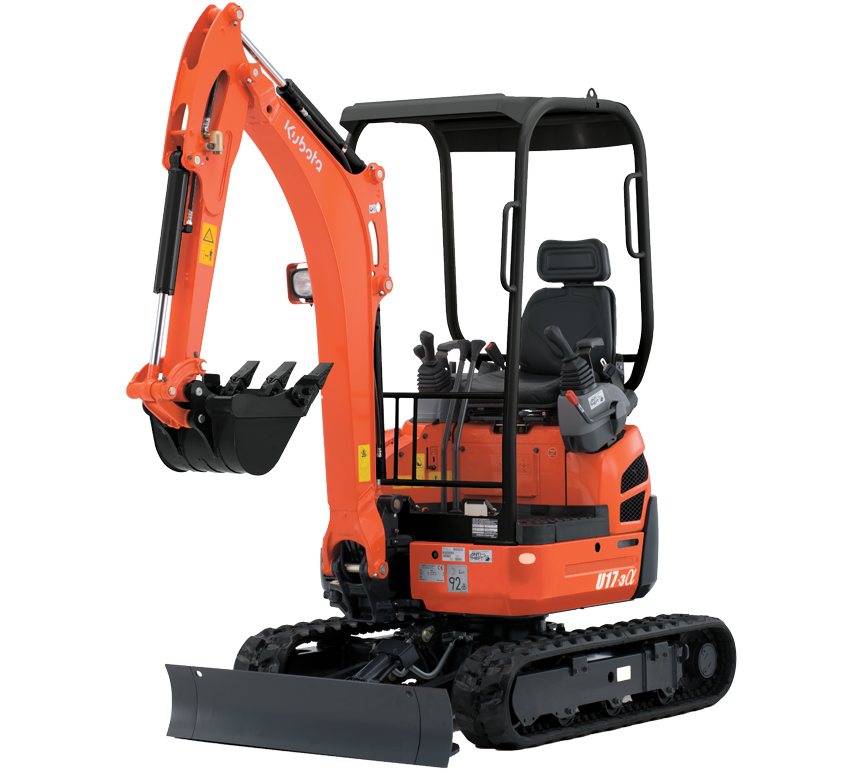 COMFORT
Weight-adjustable semi suspension seat and seatbelt
Hydraulic pilot control levers with wrist rests.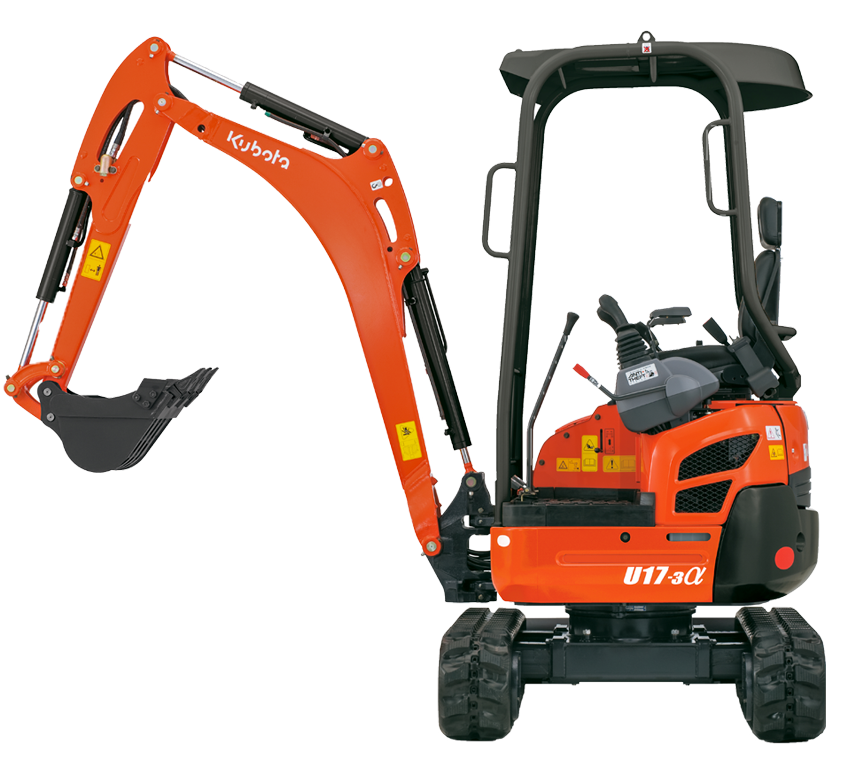 SAFETY
ROPS (Roll-over Protective Structure, ISO3471)
TOPS (Tip-Over Protective Structure)
Kubota's industry-leading, Thatcham-approved antitheft system is standard. Only programmed keys will enable the engine to start up. Attempting to start with an un-programmed key will activate the alarm.